I'm not big on the gooey stuff, but I actually like Valentine's Day because it seems so perky, and I'm like a happy little clam picking my way down a treat aisle, this year wondering if it would be worth trying out the little bite sized Snickers with messages on the packages. Scott used to go through a whole big bag of Sweethearts every night watching tv and then wobble around sick to his stomach like a little kid on a sugar buzz, and then go make a bag of popcorn. He doesn't do that anymore. I think he crossed some kind of gag line with his brain a couple of years back.
I don't handle the candy very well any more, either. A bag of Hershey's Kisses easily lasts for months around here. I sometimes hand out old Christmas candy for Halloween. I've noticed, though, that for some reason it's more fun and way tastier if you slice the Snickers down, and put one slice on top of a big marshmallow cut in half, and put that on top of half a graham cracker, then stick it in the microwave for a few seconds, and I figured it up-- only 100 calories. And for some reason, a *slice* of Snicker is so enticing that I come back later and find the rest missing and Scott looking like a cat with a mouse in his mouth. I actually imagine the tail hanging out. A slice of Snicker just looks so ~gourmet~. You could put it on a little paper lace doily and serve it on gold rimmed china, and all you'd have to do to dress it up is the daintiest dusting of powdered sugar and maybe put a raspberry by it. THAT is a sexy snack.
So this is the ~*~luv~*~ holiday. Have you noticed every other week there is something you just about have to spend money on to prove you care to someone? I put a stop to that one years ago. I like flowers and goodies and all that, but I feel like it rings insanely hollow when it becomes a nationally ordained chore. It's more fun to just peruse the candy aisle together and fight over it when we get it home.
And normally I lean way more into the blue end of the spectrum, but something about all that bright red and pink and the sultry pull of chocolaty confection on my soul.... I mean, seriously, this holiday was meant for me to swim in decadence deluxe. Forget the gym, I'm having some cheesecake with chocolate, caramel, and strawberry syrups swirled delicately around it at the Pasta House. I don't know about you guys, but Valentine's Day was made to be a love affair with food, and if romance gets in my way, it had better be able to pull a tango move that dodges my fork.
Oh, yeah, and I really like Scott, too.
This will be our 19th Valentine's Day as a couple. If you want some good advice about how to 'make it' in a relationship, lighten up and enjoy the food. If your Valentine's Day has to be about looking deeply and sincerely into someone's eyes on cue and feeling *special* or everything is ruined, gee, you're gonna be a hard person to live with. Much easier to savor a slice of Snicker on a melty marshmallow and then go ninja when your significant other swipes the rest. Trust me. If the goal is quality time together, works just as good as roses, wine, and a pretty new diamond, with a little practice, and you save all that money and time and actually enjoy each other.
Just remember what is most important-- cool Valentine footies...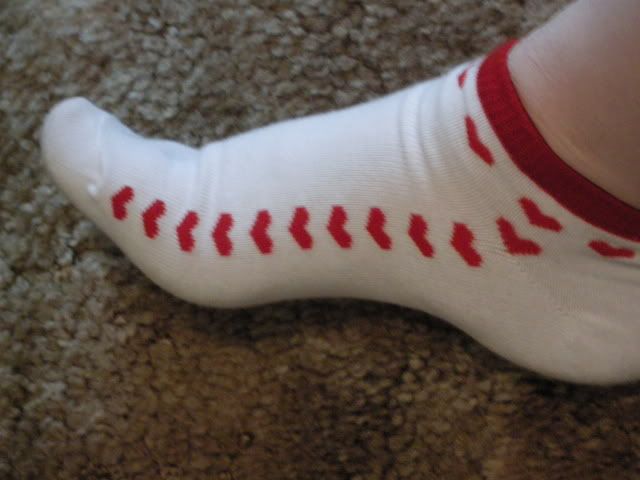 ...and treats for the coworkers.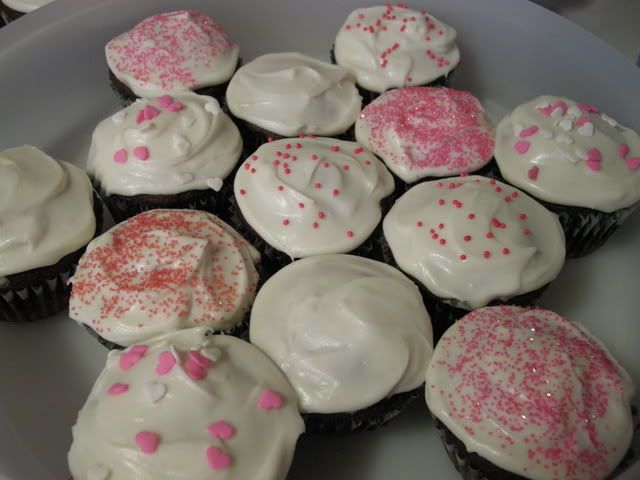 Scott said it best when his coworkers asked him what he got me for Valentine's Day-- "Nothing says 'I love you' like an MRI."
The guys thought he was terrible, but considering how many men out there ditch their wives and girlfriends when they become burdens, I'm good with it. He really does care enough to stick around through thick and thin.
And it never gets boring around here...
Happy Valentine's Day. Hope it's yummy!